Here Come The Girls'
Women In Sport Week takes place between March 6-12, and Westmeath Sports Partnership is delighted to be able to help celebrate wonderful females involved in all aspects of sport.
We run women-specific programmes throughout the year, and keep an eye on our website and social media channels for more opportunities during 2023.
This year, Sport Ireland is paying special attention to all the amazing women and girls who lead, administer, volunteer, coach, officiate and participate in sport at all levels.
Women In Sport week has six specific themes, with each day focusing another aspects of women's involvement and participation in sport.
Of course, International Women's day will be celebrated right in the middle of the week too, with the theme this year 'Cracking the Code: Innovation for a gender equal future.'
In 2022, the Westmeath Sports Partnership was able to provide events such as a Free Karate Taster session and Women In Sport Parkrun during Women In Sport Week.
The Aims of Women in Sport Week Are:
***To promote and highlight the ongoing work of Sport Ireland, NGBs, LSPs and other stakeholders and funded bodies, under the topic of Women in Sport.***
***To celebrate every woman and girl who plays, coaches, officiates, volunteers, works in and leads out on WIS.***
***To encourage and remind men and boys to be allies for women in sport.***
This Year's Events
SELF DEFENCE AND PHYSICAL ACTIVITY FOR WOMEN
***SOLD OUT***
UPDATE MONDAY
This class is now SOLD OUT.
Thank you to everyone who has signed up. See you all this Monday evening!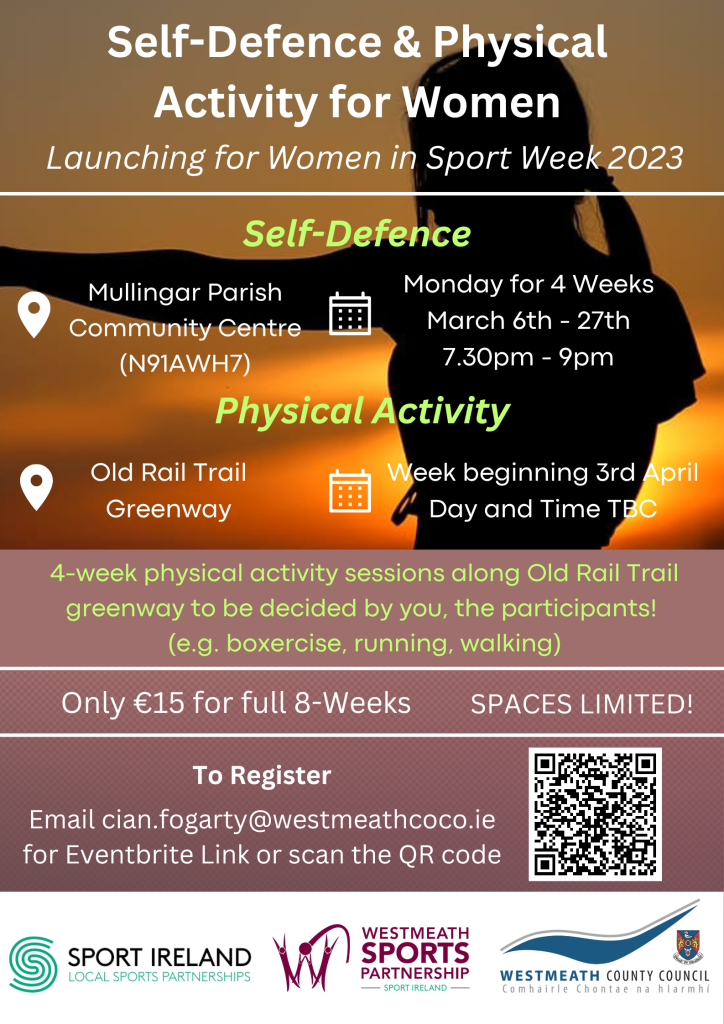 As part of this years Women in Sport Week (March 6-12), the Westmeath Sports Partnership is launching an eight-week Self-Defence and Physical Activity programme.
Beginning on March 6, the programme will involve an initial four-week self-defence programme delivered each Monday from 7.30-9pm in Mullingar Parish Community Centre by Ken Fitzpatrick (Irish Karate Kyokushinkai).
Women will build awareness and confidence with self-defence skills that are easy to learn, effective, and ready for immediate use.
This will be followed by a four-week physical activity programme, which will be decided by the participants based off their preferences. These sessions could include boxercise, running or walking.
Where: Mullingar Parish Community Centre.
When: March 6 for four weeks' and then to the Old Rail Trail for final four weeks'.
Time: 7.30pm-9pm.
Cost: €15 for eight weeks'.
What to bring: Bottle of water and comfortable clothes.
Link to Register: https://www.eventbrite.ie/e/self-defence-and-greenway-physical-activity-for-women-registration-560602526247?aff=ebdsoporgprofile
KEEP FIT CLASSES IN COOLE AND BALLYMORE
For women age 50+
Firstly, these courses are free, so you have no excuse not to get involved and they are open to all ability and fitness levels. With two locations, we hope to see as many women over the age of 50 get involved as possible.
We are running two easy keep fit classes starting on Thursday March 9 in two different locations in Co. Westmeath as part of Women In Sport Week 2023.
Did we mention they are free, so if you would like to get some gentle exercise in in a fun and social atmosphere then all the details are below.
You do need to register in advance just so we know how many people might be coming and those links are below.
Easy Keep Fit Class for Women 50+ in Coole Hall
Where- Coole Hall
Time- 10.00-11.00
When-Thursday 9th of March
Link to register: Easy Keep Fit For women 50+ Tickets, Thu 9 Mar 2023 at 10:00 | Eventbrite
Easy Keep Fit Class for Women 50+ in Ballymore Community Centre
Where- Ballymore Community Centre
Time- 12.00-1.00
When- Thursday 9th of March
Link to Register: Easy Keep Fit For women 50+ Tickets, Thu 9 Mar 2023 at 12:00 | Eventbrite
Indoor Rowing Taster Event with Athlone Boat Club
If you ever thought of emulating the likes of World Champion Sanita Puspure, or Olympic champion Paul O'Donovan, then Athlone Boat Club may have the perfect opportunity for you.
As part of Women in Sport Week 2023, the Athlone Boat Club, in association with the Westmeath Sports Partnership, is hosting an open day/taster session of indoor rowing on Thursday March 9 at 11am at its clubhouse on the banks of the River Shannon.
Club coaches will be on site to have a chat about the club, show you around the state of the art facilities, and give anyone interested a chance to open up their lungs on some of the indoor rowing machines.
The women-only event is free and no registration is required so why not pop along next Thursday to give it a go!
Girls' Primary School 5s competition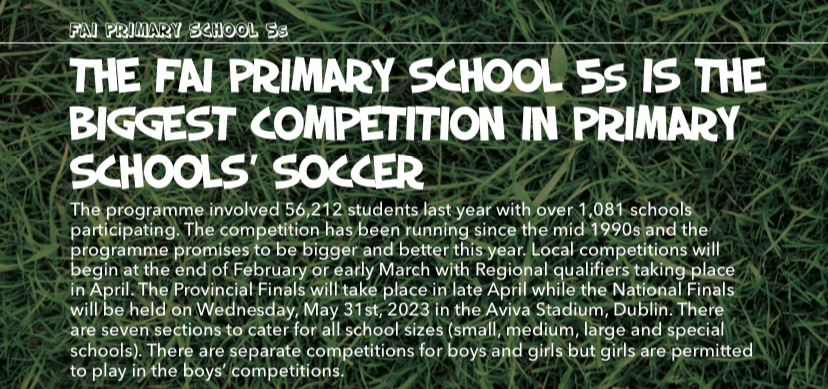 FAI Primary Schools 5s in Mullingar
Starting on Monday March 6, schoolgirls from across County Westmeath will get to take part in the annual FAI Primary School 5s with the hope of playing at the Aviva Stadium later this year.
Action kicks off at 10am in the Mullingar AFC grounds with girls from small or medium sized schools playing against each other on Monday, Wednesday and Thursday.
Overall, a total of 41 teams has entered the competition this year, with the winner of each category progressing on to the regional finals.
The National Finals will then take place in the Aviva Stadium on Wednesday, May 31.
There are separate competitions for boys and girls, but girls are allowed play in boys' competition.
The table below has a list of the schools' competing this year.
Other Events this week
As well as the courses mentioned above, we are also beginning a new block of walking/jogging classes for teenage girls in Athlone at the Monsignor McCarthy Complex in Battery Heights. We are every excited as the girls are in training to take part in a 10k event in Dublin this summer.
The fine women of Horseleap/Streamstown ICA Guild will also be starting an Activator Poles class on Wednesday 8 March between 7.30-8.30p.m.
We also had a huge response to our Easy Keep Fit Exercise & Nutrition for Peri-Menopause and Menopause classes which are beginning on March 7 in Mullingar and which sold out in record time.
You can find more information about Women In Sport Week on the Sport Ireland website here